FREE SANDWICH WHEN YOU BUY A T-SHIRT!
Get a FREE single sandwich
when you buy a t-shirt for $16.99.
Toppings and extra meat at an additional charge.
CONSTRUCTION NEWS! You can reach Nemo's from all directions on Irving Heights and Grauwyler.
Our Delicious Submarine Sandwich Choices
Unless otherwise specified, all sandwiches include:
Crispy Garden Lettuce, Red Ripe Tomatoes, Sweet Onions, Special Seasoning, Vinegar and Oil,
all built on our own special Italian roll made fresh in our bakery.
&nbsp

&nbsp

8"
Single
16"
Double

SIZZLING STEAK

Tender sliced RibEye Steak, grilled to perfection. Our Signature sandwich!

4.89

8.99

TRADITIONAL

Cotto and Genoa Salami, Choice Ham and Provolone Cheese.

4.89

8.99

CHICKEN

Tender Grilled Chicken Breast.

4.89

8.99

CORNED BEEF

Made from the leanest thin sliced Corned Beef, delightfully steam grilled.

4.89

8.99

HEAPS OF HAM

The finest Smoked Ham, thinly sliced, steam grilled or served cold.

4.69

8.69

TURKEY

Lean Breast of Turkey, steam grilled or cold.

4.69

8.69

THE VEGGIE

Grilled onions, mushrooms and green peppers topped with provolone cheese.

4.69

8.69
All of our sandwiches are MADE TO ORDER!
Add one or more of these Flavor Enhancers for just
.60 for a single sandwich and .95 for a double sandwich:
Provolone Cheese

Grilled Mushrooms

Grilled Onions

Grilled Green Peppers

Real Bacon Bits

Sliced Jalapenos
---
For a limited time only, enjoy the Captain's new "SNACK" size sandwich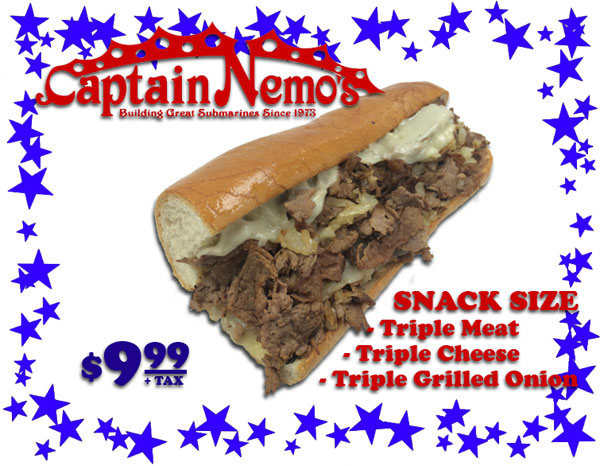 ---
Nemo's homemade Navy Bean and Ham Soup is 1.29 per cup and 1.79 per bowl.
---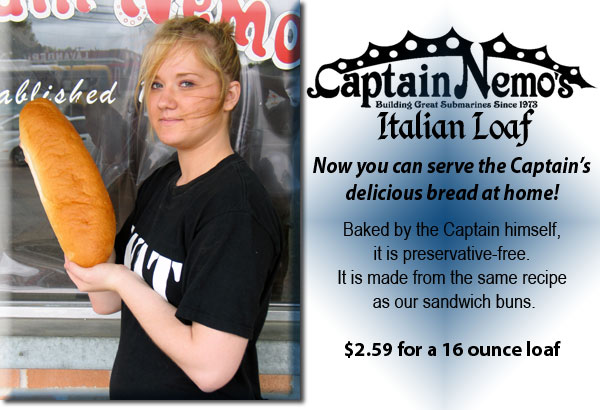 Like Captain Nemo's Irving on Facebook for news and pictures!


Home

|

About Us

|

Menu

|

Location

|

Hours

|

Coupons

|

Guest Book

|

Crusher's Cruiser

|

Contact Us

|

Construction News



---
Captain Nemo's Steak Submarine Sandwiches
1426 North Irving Heights Drive at Grauwyler • Irving, Texas 75061
Phone: 972.438.7777